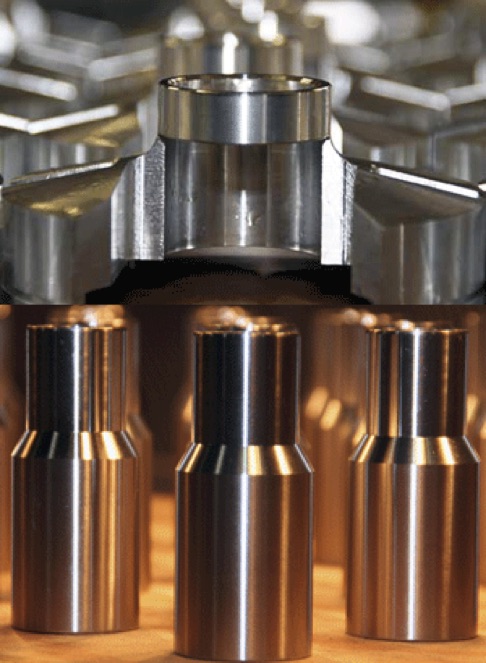 Master Metal Engineering is an advanced manufacturing facility operating state-of-the-art equipment, including CNC lathes, Citizen Swiss screw machines and CNC machining centers. Master Metal manufactures many different types of machined parts for the Medical, Aerospace, Automotive and Heavy Equipment, and Food Processing industries.
We specialize in close tolerance precision production runs and prototype work, along with concurrent engineering on gear design and assemblies from concept to production. Our capabilities feature:
Citizen Swiss screw machines with work envelope of 1/16″ to1.25″ diameter, with part lengths up to 14″ long
CNC lathe work from1/16″diameter to 2 9/16″ diameter bar feed work
Chuck work to 11.81″ diameter X 9 1/16″ long
Shaft and between centers work up to 7.87″ diameter X 18.5″ long
CNC Machining center work such as multiple hole drilling and tapping operations on production runs of castings or diametrical parts to more complex milling, drilling, tapping, and boring operations performed in block or plate type work
Wire EDM accredited by Nadcap to SAE standard AC7116 Rev B

Other in-house capabilities include O.D. and surface grinding, gear cutting, internal broaching, and honing. Along with nearby and fully certified plating and heat treat sources, Master Metal can give you the quality part which will meet your needs.
Quality parts are what you expect as a customer, and what we demand of our employees, to keep you as a satisfied buyer of our product. Master Metal has a complete quality system in compliance with, and registered to, AS9100 Revision D.  Let us know your needs and requirements. We believe that we can give you the best in quality, competitive pricing and dependable delivery. If our facility cannot meet those needs, we will tell you so.
We at Master Metal Engineering are here to answer your questions, solve your problems and service your machining requirements. We would like to extend an open invitation to you to take a closer look at our facilities and capabilities.
Copyright Master Metal Engineering 2020 – All rights reserved