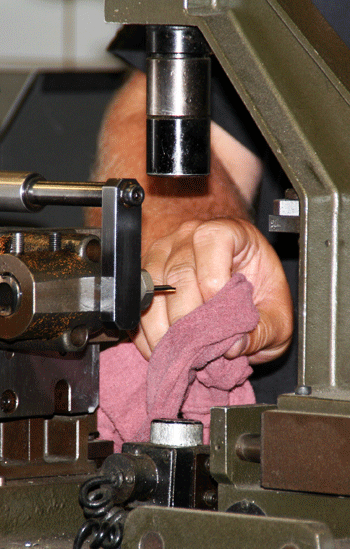 Master Metal Engineering is occasionally looking for skilled machinists. If you are interested in seeking employment with us please check the list of current openings below.
Master Metal requires a drug screening test at time of hire. If you would like more information about our operations, please e-mail us at Info@mastermetal.net.
To apply, please complete our application, or visit us at 4520 S. Burnett Drive, South Bend, IN 46614.
MME is an Equal Opportunity Employer.
Shifts at MME:
Day Shift: Mon-Thur 6:00AM to 4:30PM or Mon-Thur 5:00AM to 3:30PM
Night Shift: Mon-Wed 4:30PM to 5:00AM, Thur 4:30PM to 8:30PM ($0.50/hour premium)
Current Openings
Deburring
We currently have a day shift position available. This position requires a detail-oriented individual who must be able to follow directions and likes working with their hands in a precision manufacturing environment. Must be a team player with a good attendance record. Previous metal deburring experience preferred but not required. High School diploma/GED required.
CNC Mill Operator
We currently have day and night shift positions available. We are looking for machinists with at least 2 years of CNC Mill experience with operations, set-ups, tooling changes, editing existing programs, blueprint reading and measuring tools.
We work a four day work week, have competitive wages, generous benefits and a clean-climate controlled environment. All positions require a High School Diploma/GED.
Follow Up
You may email, mail, or fax resumes and/or completed applications to:
Master Metal Engineering
Attn: Human Resource Manager
4520 S. Burnett Drive
South Bend, IN 46614

PH: +1 (574) 299-0222
FAX: +1 (574) 299-1187
email: hr@mastermetal.net
Copyright Master Metal Engineering 2020 – All rights reserved